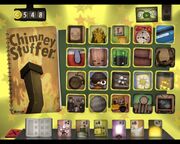 When you start the game, after you have burned the Terms and Conditions, you will recieve a letter from Miss Nancy. She will tell you about obtaining new items and give you your first catalog, the 'Chimney Stuffer'. There are seven catalogs in total, each one with twenty items to order, making a total of 140 items to order and burn.
Getting new catalogs
Edit
After you have burned all the items in a catalog, found a certain amount of combos and payed a specified amount, you will recieve your next catalog.
Using catalog
Edit
You can access your catalogs by clicking the small catalog picture to the left of your mailbox . This will bring up a big menu, showing what you can buy. Clicking an item will bring up it's name, description and price on the left. Burning items unlocks more items to purchase, which get more expensive as you go through the catalog.
Catalog Information
Edit